Late June to mid-July 2019
I went on an extended trip back east to a high school reunion, family reunion, and extended family trip to the Georgian Bay in Ontario. I must admit it's my least favorite time of the year to travel there, as the weather is too hot for me. But the family reunion was when it was, and I didn't want to miss it, and I was able to do a trip to my hometown and a trip to Canada on either side of the family reunion so that was a bonus. The weather was hot as usual in July. 80's and 90's everyday. I wore shorts when I could but for extended outdoor stays I had on long pants and long sleeve shirt to avoid sunburn. But Alaska wouldn't have been an escape this year. It was in the 80's in Juneau, and 90's in Anchorage and Fairbanks.
The high school reunion in our town isn't really graduating year specific. It's called "alumni weekend" and occurs the weekend of the high school graduation, which is obsenely late in NY on the last weekend in June. Bolivar hasn't changed much since I grew up there – except for the better in a few ways. There's now a big convenience store, hardware store, and Dollar General store downtown, along with the grocery store, so you can get alot of what you need without traveling to Wellsville or Olean. My friends Kelly and Lois have spearheaded an oil field museum as well, as our town area was among the earliest oil production in the US. There's only 2 bars left in town – within sight of each other (I guess about every business is in sight of each other, now that I think of it) – so you don't have to go looking far to see who's in town. What's changed the most, of course, is that I used to know the occupants of most houses in my little town, and those have nearly all changed now as people move or pass on and a new generation takes over. The spirit of the town seems the same and that's good. I saw one of my best friends growing up I'd not seen in some 30 years who lives on a hollow out of town in his grandparents house, along with several other school mates and their parents.
The family reunion had a pretty small turnout and sadly, many that lived in the area didn't attend. When we had the first reunion about a decade ago, I remember thinking at that time that this was the reunion that would probably be the best attended in my lifetime, since many of the surviving siblings of my mother might not be around much longer, and I was right. My dad is the lone member of the siblings or their spouses now still living, and the cousins have less of a tie to each other than each of us did to our parents, aunts and uncles, I guess.
We went to Canada after the reunion. I went with a sister, niece, and nephew and a pile of first, second and third cousins. I brought along my little 5 hp outboard I leave with a sibling for just this trip, and took whoever wanted to go out fishing everyday in the leaky aluminum skiff that lives at the boat house near the cabin. My uncle and his brothers purchased the island and had a log cabin built on it about 70 years ago, and although it's had repairs, the cabin is largely the original. There are propane lights, fridge, water heater, and cook stove, and we fill a water tank with bay water using a gasoline water pump to gravity feed a kitchen sink, bathroom sink, toilet and shower. Most everyone bathes in the bay. From the cabin, there's not another cabin in sight. The islands are covered here and there with a thin soil and scraggly spruce and hemlock trees cling to an existence. The tallest ones may be centuries old but only 30 feet high and 16 inches in diameter. Literally hundreds of different extended family and their friends have been to this place over 7 decades.
Most don't come to fish at all like I do, but to swim and ski and just enjoy the place. Sara loves going. She loves to swim and takes the kids swimming from island to island. She had to miss it this year as she's now a state legislator and the legislature was still in session.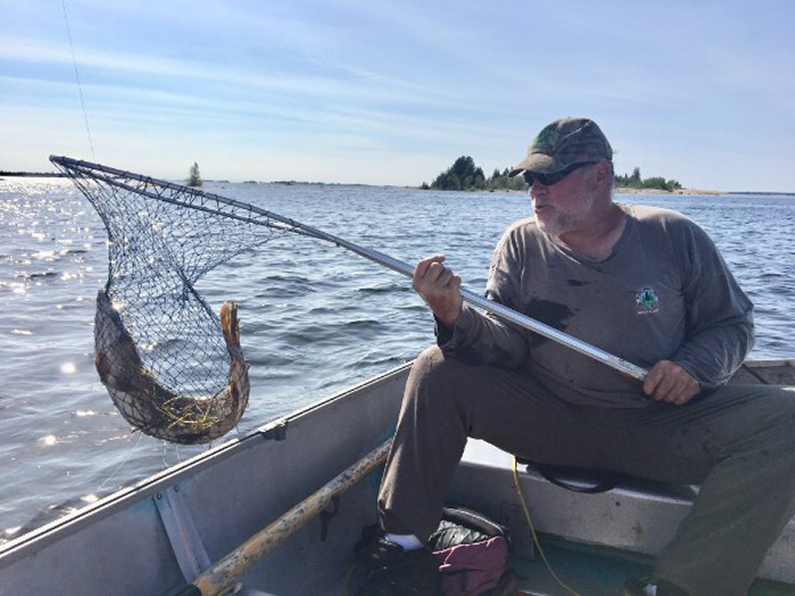 Fishing was good. We caught about 30 bass and a couple nice northern pike trolling with rapala-type floating lures. We kept a few for a fish fry my last evening and all 12 of us enjoyed the bounty from the bay.
The weather was sunny and hot most days, with a spectacular lightning show and shower my last evening. Mosquitoes come out at sunset, but few other biting flies like deer flies or horse flies were around this trip. The day before we left the island, I saw a mississagua rattlesnake on the trail with my cousin's husband John the day before I left. May be the only rattler I've ever seen. It was about 3 feet long and as big around as my thumb. Not menacing at all. He gave us a few warning buzzes, never coiled, and we left him to go on his way. The last morning, after the storm, a black bear was rattling around the boat house where I was sleeping at sunrise, then looked over the sack of recycle trash and burn barrel up at the cabin. I was the only one to see him and only one other of the cabin dwellers heard him. People sleep pretty hard after a full day of fishing, water skiing, boat driving, cooking, and dish washing. We also saw a couple mink, a beaver, Canadian geese, ducks, and vultures. I also saw one sand hill crane, and heard others croaking their unique call in the distance everyday.
I met several new cousins this trip – offspring of my first cousins (and their offspring). One was even married to a chef who was the winner of some tv show called Hell's Kitchen. Another was a learned-it-on-the-job cook who taught my nephew how to fry the fish we caught.
A big event in the area happened this past year, when about 90 huge windmills went up in the Henvey Inlet, and they now dominate the landscape when you look up the inlet. It's right out of a science fiction movie. They seem to bother some people but they didn't bother me much and we got used to them quickly. They are inert objects towing above the little patch of wilderness between the Key River and Byng Inlet areas. They helped me navigate on the water as I could use them as land marks. They weren't turning when we were there but I suspect it will be quite a spectacle when all 90 of them are turning.
The water in the Georgian Bay was also very high over the previous few decades from what I was told. Something about how much water is allowed out the St Lawrence Seaway was dictating how much water was held in the Bay. The water seemed a bit tannic in color, but was not muddy. The high water seemed to concern some people – mostly cottage owners near the water I guess – but more water means more fish so that seemed good to me.
This remote spectacular property is now owned collectively by my uncle's daughters (my cousins), all of who are regular people with regular jobs like teachers and nurses and hot dog cart owners and salespeople for the local Cutco knife company in Olean. Not the kind of property regular people own anymore. I always felt privileged and just damn lucky to be allowed to use it as extended family because people like us don't own places like this. I hope the property never leaves the family. Then rich people will own ALL the cool stuff. It's the only place outside of Alaska I'll make a point of going to, and now that I'm mostly retired I hope to get back there for some extended stays. I'd love to go there in the winter – no family ever has to my knowledge – to do some skiing and cross country skiing and see if I can keep warm somehow in the cabin with some sort of wood stove I'd need to pack in where I could run stove pipe up the fireplace chimney.   Our marine taxi service captain who also owned the little resort where we launch from and park has a cousin up our way in Carcross, over the Yukon Territory border from Skagway, and he visited him 30 years ago. I suspect now that I have his name, I'll run into him sometime in my travels around Southeast Alaska. The captain shared a bit of his fish knowledge with me of the area on our way back to his resort, and I hope to go fishing with him next time I return and hope he gets to come visit us some day to fish near Juneau.