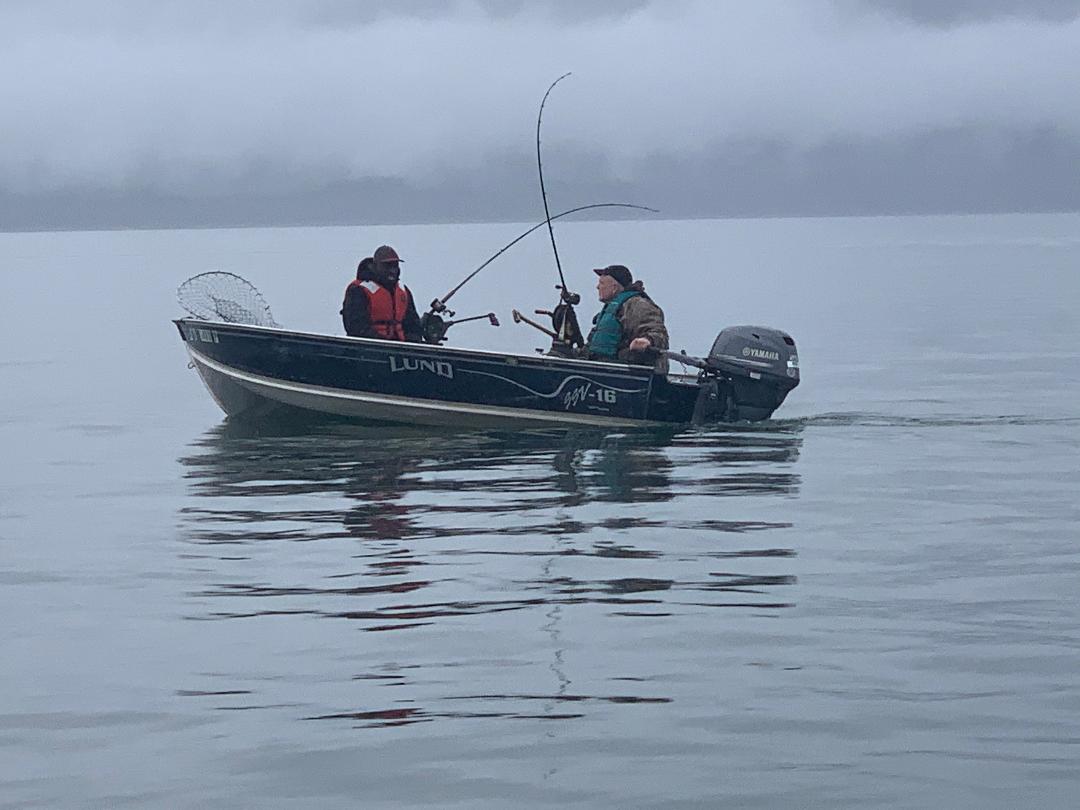 Andrew started his new job after working two jobs, supporting two families, and getting his masters degree. His new job leaves more time to fish and overnight out of town, and he was ready to go to the cabin for fishing  and berry picking. My boat is in the shop so we borrowed Jeff and Kurt's skiff. I always feel like a 20 something again on the tiller handle of a skiff. We fished in the rain all day and not a strike.
We headed to the cabin. Andrew was soon down for a nap and I steamed the crab from the pots. I'd noticed some big red huckleberries on the hike in, and told him I was off to berry pick. He perked up and grabbed the other berry rake and away we went. I had him pick blueberries and blue huckleberries and I soloed on the red huckleberries. We picked for about an hour and got a quart or two each.
I used the blueberries in the pancakes this morning and Andrew was impressed. They don't really have berries in Sierra Leone that I remember- just the bigger fruits like oranges, pineapple, guava and mango. He was also impressed at the volume of berries in the woods. It's really incredible this time of year. He asked how else he could eat them, and when he mentioned smoothies, I said yes, that's a common use. Samuel loves smoothies he said, and they'd try them. I told him berries are like salmon – you can pretty much fill your freezer with them. So maybe I'll get a berry picking partner now.
We pulled the pots in the morning and had more crab. Andrew was getting the idea. I rarely leave the cabin without some food stuff going to the freezer.
We headed north to try a spot nephew John and I fished daily years ago. We put our gear down and in less than 5 minutes, Andrew had a nice chrome coho on. We got it to the net and into the boat. I put it on a stringer, broke a gill, and put it over the side to bleed.  We fished the rest of the morning in dry weather and not another strike.
We pulled our gear a few hours later and headed to the dock, just as more rain hit.  It was pouring down now, but the dock was not far and we had our rain gear on so we just grinned and bared it.
I cleaned the crab and salmon at the dock. I cut off the tail section for Sara and I for dinner, and gave Andrew the rest of the salmon and the crab we caught this morning. The other crab and some king salmon we caught in Craig in June are going to a friend who recently lost her husband to sudden sickness a few months ago and her son before that a few years back when the crabber he was on went down in the Bering Sea. I know she will appreciate it.