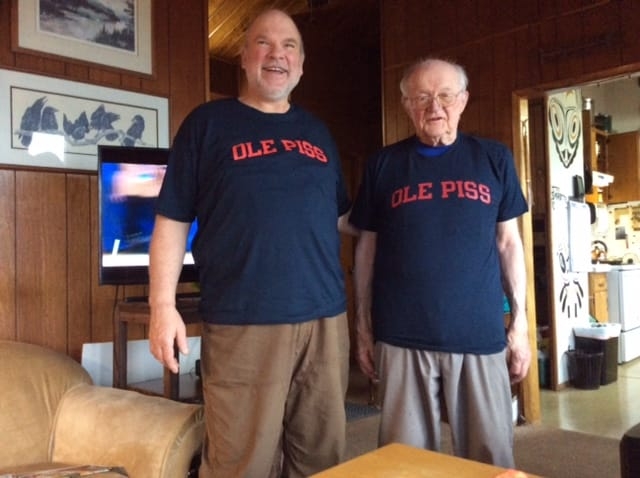 You'd think 92 years would be a ripe old age to die. Not for Paul, it wasn't.
I talked to him a few days ago. My usual report in on current fishing or sports or politics. Paul sounded good. He had nearly all of his marbles, right to the end. Since I spoke with him often on the phone and not on video chat, and saw him a few times a year in person, I wouldn't see the physical declines those closer to him would, and maybe his passing was more expected by them. He was one of my best friends and I spoke with him more often than I did my family, and was closer to him than my own dad.
The photo of Paul and I was taken when I went down to his house to watch the Egg Bowl with him, I think. Paul loved sports and that, and fishing and hunting, were our main topics of conversation. I think he cherished the "Old Piss" shirt I sent to him more than anything else I ever did for him, along with the $500 van I bought from Rorie that he said was so perfect for him he'd hug it everyday. I saw the van over by Steve's apartment when he was helping me scavenge at the Petersburg dump, one of my favorite activities when I was in town,  on a Sunday a few months ago. If you don't know the meaning of Old Piss, it might be because you never lived in Mississippi, but I'll let you look that up yourself. My late friend Jimmy introduced me to the phrase.  We both went to Mississippi State.
I met Paul in about 1988.  On a dusty road in Sierra Leone. All of us on motorcycles. They were going one direction and me the other.  I was about 22,  in the Peace Corps in the same country as his younger daughter, and he was there visiting her with his older daughter. We chatted briefly in the West African heat and humidity, and then went our separate ways.
A few years later, I found myself moved to Juneau and working as a state fishery management biologist for the salmon troll fishery. Each season, we'd take a trip to ports around southeast Alaska to talk to fishermen about the upcoming season. When we stopped in Petersburg, a shorter man with glasses walked up to my boss and said "Well, this is a long way from West Africa". Or something like that. My boss soon realized Paul was looking for me, and he came over and that reintroduction started an increasingly close relationship that lasted til the day before yesterday.
Paul grew up in various places – Nebraska. Montana. California.  If I remember right, he told me he stuttered as a kid, and found he liked running as it was a sport he could do alone and not have to be part of a team where he'd have to talk. I think long about his 8th grade year, the gym class was doing some kind of running test of sorts, to see how fast each could run some distance.  Paul apparently impressed the crap out of the gym coach, which lead to a high school career in California and a later college career at Cal. Paul followed track and field the rest of his life, and could tell me who were the standouts even to the high school level in the US.
Paul graduated in Geology from Cal and then went to Korea just after the end of the war, and worked in the engineering corps, building bridges. When he got to Alaska, he worked in geology around the state. He showed me an article in a geology type journal of a story he was a part of exploring Mount Fairweather, out between Cross Sound and Yakutat. He also worked up on the Yukon River and out of Dillingham doing exploratory geology for mining companies. Later he was a surveyor for the Alaska Pipeline, laying out the corridor for the pipeline out of Valdez, which is where he also bought his first troller, The Wooden Shoe, if memory serves.
I can't remember if it was before or after the girls were born, but he said he wanted to get a job where he didn't have to travel so much for his family, so he went to UAF and got his teaching credentials. He got hired on in Petersburg as a science and math teacher at the high school, and taught there til retirement. On his own initiative, he started a surveying class at the high school. He said some kids who didn't care much for school otherwise would have to buckle down and pass some preliminary math class requirements before they could take his class, and many did. He was so proud of his students who went on to become surveyors. The highlight of the class was a trip to the nearby LeConte glacier. He talked the helicopter charter service in town to flying them out there each year for free (I think). The annual surveys became, of course, very important right up to now as baseline data for the glacier's retreat over the past 40 years. There's an old "Rain Country" KTOO video episode of him and the students there. He was named Alaska Teacher of the Year, which I only know because there was the award certificate hanging in a frame in his house. I've never met someone as humble as Paul. He'd never tell you himself about his accomplishments or awards like this. But he would always talk proudly of his daughters.
His girls graduated from little Petersburg high school and never looked back. One commercial fished in Yakutat during the summer, and her marriage to the local APR reporter in Petersburg took the two of them all over the world for his work as a foreign correspondent for NPR. The younger daughter was the state's first Rhode Scholar and worked for USAID all over the world as well, from Indonesia to Africa. One currently lives in Turkey and the other in Zambia. Paul visited both daughters all over the world until the travel got to be too much for him. By then, his girls and nephews and son in laws were well established and could take extended trips back home to Petersburg, where Paul was still able to go out with them fishing for salmon on his troller, right up until last year.
I met Sara here in Juneau through a mutual friend from UAF.  When we started our short dating courtship, I mentioned my friend in Petersburg and she said she had a best friend since high school from Petersburg. My friend was Paul. Her friend was his oldest daughter. A seemingly big life coincidence, but not so much in our big state of few people.
Paul and I corresponded here and there after our reunion meeting in Petersburg about 1997. My first big break was getting invited to the annual duck hunt with Tyler. He was always somewhat secretive about where he and Tyler went, so being invited into the club was a big honor for me. It must have impressed his daughters that I was let into the exclusive little club. Over the years, the three of us hunted in their spot. Paul on one end of a tree washed up there for decades. Tyler on the other. The first time we went hunting, we hauled box after box of shells from the little boat to the dead tree hunting blind. More shells than most people would shoot in a lifetime. I was right on that account. He's given me countless shells in the last decade that I've mostly passed on to friends and family that duck hunt.  Then Paul said I hope you don't mind, but the way we hunt here is we throw out the dekes at low tide when we get here, and wait for the tide to float them, and then the ducks start coming in. Which takes a while. So we like to have a beer while we wait. Next he said, I hope you don't mind, but while we're waiting and drinking a beer, we like to listen to the Seahawks game (it was a Sunday), which was carried by the local Christian station in Petersburg. I said "Paul, I think we're Siamese twins separated at birth!". What a crew.  I could see I would fit in here.  Tyler would occasionally ask Paul if the game had started yet, and Paul would reply "No Tyler, It's Time to Pray!".   Paul was a crack shot with a semi-auto Browning that was a lot of gun. The barrel went out there forever from the stock. He gave me that gun a few years ago. We went on more hunts over the years with Tyler, and later with Paul's son in law and the son in law's brother.
As he aged, my visits were more often to the house, either on trips passing through Petersburg, or on the annual gathering to watch the Superbowl. Dick, Kris, Steve and I were the usuals, and Paul went all out with platters ordered from Hammer and Wikan.
I unfortunately never met his first wife – the mother of his daughters.  She passed away young from cancer before Paul and I were good friends. So, so many of his stories started with "Me and Neva". She was quite an outdoorswoman from the stories. He later married Penny, who ironically and tragically passed away from the same cancer as Neva. She and Neva could not have been more different people from what I gathered. Penny was a thespian and loved being in the local theatre and Little Norway festivities. She even got Paul to like her little red dog. She was so welcoming when I'd come down to visit, and a great cook.
I last saw Paul when Kurt and I took the boat to Craig in April. Paul and Erik took us to lunch at the great little diner near the harbor in Petersburg. Paul couldn't figure out how to use his card to pay for lunch (which he always insisted on doing), and when he tapped the card and the payment went through, I said "welcome to the 21st Century, Paul". Both he, and state Senator Stedman, who was seated in a table nearby and doesn't know me from Adam, laughed. We always had fun.
I last talked to Paul a few days ago. He was recovering from illness caused from not remembering to take medication for one of his health conditions. This was not his first time from recovering from something, and he sounded like he'd rebounded and was his old self again. Kurt noticed he was alot more frail than when we'd stopped to see him 9 months earlier bringing the newly purchased tug up from Ketchikan. I guess I did, too.
But old age didn't get Paul, really. Being old did, though, as he had a bad fall that he couldn't recover one more time.  I thought he would, but I didn't realize how bad this incident was as compared to others in recent memory. His daughters were both at his side when he passed, and I'm sure he was content going quickly. I've lost several friends and family and friends in their 50's and younger  – Jimmy, Jeff, Heather, Terry and Emily – in just the past few years –    I thought I'd be better prepared for a 92 year old's transition, but I guess I'm not. I thought for sure he'd make it to 100, and sometimes wondered if I'd go before he would. Really a privilege to be his friend.