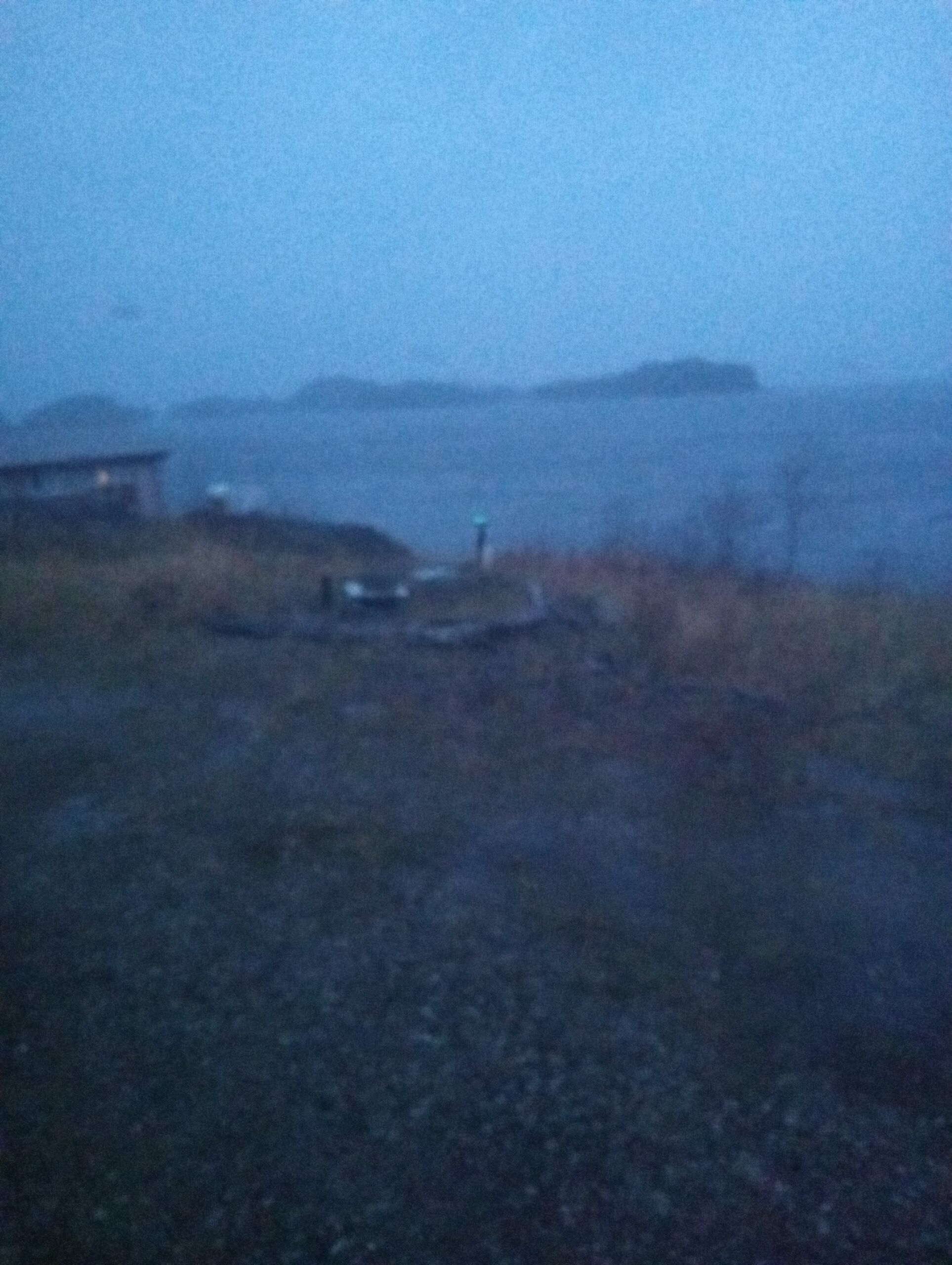 Day 1
Went to Thorne bay to get another washer as the one I got here wasn't working right. It would start but then randomly quit for some reason. The kid there was moving to another place and needed to get rid of this one. He said it worked. $50. Real nice guy. Brian knew him of course. Then when I got there he helped me load it and wouldn't take any money!
The guy was in his 30s I'd guess. He was the water treatment plant operator for the city. Said he'd grown up there, moved outside as a Marine, and when he saw what other parts of the country had to offer, realized his town was where he wanted to be, so he got his water treatment certifications and has a good job at home.
He'd got a deer a few days earlier, but had hiked 8 miles the day before yesterday and not seen anything. About same as me on that day. So made me feel like it's not just me not seeing any deer.
On the hour drive home, I saw a truck with a four wheeler in the bed and a fork horn on the back of the four wheeler. Good for them.
When I got home, this washer did same thing as the first one! So now I think it's the GFI outlet it's plugged into. So I swapped outlets. And I think that IS it. I think low voltage or something since the shed is just powered by the extension cord. It worked after that, I think. I am going to unplug the freezer when running laundry, too. I think I'm narrowing the washer problem down, anyway. And eventually they do finish washing and it's so worth it.
The clothes dry overnight hung in front of the heat pump and makes the place smell good as a bonus. Running the dehumidifier full time helps them dry, and has stopped dripping from the windows, too.
Day 2
Did some tidying up in shed. Ordered some high quality ear plugs to use instead of the ear muffs.
Day 3
Hunted a new island with Brian and Steve. Set a halibut skate on the way out. Pouring rain and not much wind.
They dropped me off and Steve gave me a rundown of what to expect. I hiked a mile up the hill to a beautiful muskeg on the ridge. Called for about 45 minutes and saw nothing. No rubs, either.
Headed back down the hill and got to the beach at 1 pm pick up time. I took my phone off so not disturb and see the boys changed pickup to 130.
I was soaked from outside in and inside out. I changed out to dry clothes from the ditch bag left on the beach. Ahhhhh. That's better. I sat there warm and dry in the wilderness considering how lucky I am, deer or no deer.
Tonight was siblings zoom hour. I haven't participated in a month or two, and had enough signal to jump on. I was only on for about a minute when Brian and Steve came around the point to get me. But the boat kept going. I thought then maybe it was my friend Mike who has a similar boat. Nope. They both just forgot where they dropped me. I was waving my orange dry bag the whole time and finally Steve saw it, as Brian is color blind. I signed off the zoom meeting and moved down to the waters edge for pickup.
We ran some beaches on the way back to the skate and didn't see any deer. But oh, the whales. Humpback whales everywhere. And I was wrong about them. They aren't on their way to Hawaii but most stay here according to the boys, who would know better than I.
We got one dogfish on the skate and that was it. We got back to the harbor and mercifully there was no rain. We dropped Steve at his house, then the skies let loose, with heavy rain and some hail mixed in, all the way to my house.
I took my wet clothes and learned another lesson about washers. The drain hose has to be elevated above the machine, or it just drains out as fast as it fills! It was not a power issue, but simply that! As as soon as I elevated the drain hose, the washer ran like it should – filling up, and then to the wash cycle. More tuition paid. And now I have two working washers.
My sister in law just called me to come over for dinner. Also said she saw a spike in my driveway today while I was out seeing nothing. That's funny.
Smoked salmon chowder for dinner was fantastic. I'll sleep well tonight.
Day 4
Drove across the island to a muskeg at the top of a hill. Only I never could find it. But good to get out of the container for awhile as the storm approaches.
Day 5
Storm is here. Supposed to blow 45 and gusts to 60 this evening. I took some little ladles to the thrift store, and saw our good friend Vic there. Then stopped to talk to Chet about an outboard, then to the grocery store and hardware store.
I dismantled my hunting pack to remove the internal flat bars, then ran it through the washer. I bought quick connects at the hardware store so I can easily change the garden hose from one washer to the other. The front loader will work better for big items like to the pack, and the top loader for regular clothes. The pack looked like brand new when I took it from the washer.
I did a load of regular laundry after switching the water. Later, I put a piece of left over electric conduit out the building, then put the drain hoses from both washers in the other end, at height. When I leave for Juneau, I can just pull the drains out and lower them and that should drain the washers so they don't freeze.
Storm is cranking up. Likely a few days before I can hunt again.
Day 6
Blow came for real. Surely seemed like 60 kt winds and might have been higher. Power went out just before 8 pm. At 5 am, I got another heavy blanket as the container was getting cold. 630 am I put some water on to boil on the propane stove, and dressed in long underwear and heavy Carhartts and fleece socks. 7 am the power returned.
I walked around to survey any damage. Joyfully, not a drip around the windows. The welded frames seem watertight.
Outside, the ladder leaning against the shed luckily fell harmlessly to the right, and not the left where it would have landed on the hood or windshield of the truck.
The cell antenna had spun around to the opposite direction.
The punt blew out of the skiff, but luckily I had the bow of it tied off to the gunnel rail in the skiff so it lay beside the skiff and there was no damage to the punt.
The back canvas wall of the skiff had pulled away from the wheel house frame in a few places and the zipper pulled out a bit.
Got tools, screws, and wire ties together and started in on the repairs one by one. Took less than an hour to take care of everything, except did not tackle sewing the zipper.
Brother in law called to go deer hunting, and off we went on a side by side atv. We stopped at a muskeg on the way to where my nephew in law and his buddy got deer last year.
Brian called several times on his call. Then I blasted a call from mine. And here comes a doe. She hung around while we waited but no bucks with her.
We continued to where we thought the nephew's spot was. When we thought we found it, there was a big problem. The muskegs were down some steep terrain. Maybe a spot two 30 somethings would want to pack out a deer. But not two 60 somethings, each with a bad hip.
We got off the ATV and walked aways to see if we could find some country to hunt. Too steep uphill one side of the road, and too steep downhill on the other.
On the walk back, I had trouble negotiating a small creek, and went down right on my elbow and forearm. Like falling in ice. Lots of pain. And gun slammed down next to me. It's going to need to be sighted in again.
I got up in a lot of pain, and sort of shock. I tried it out. I could bend the elbow. I could rotate my forearm. Looks like just a bruise. It hurt like hell for the next 30 minutes or so, but finally the pain eased.
We rode back in pouring rain. I got home to a warm room and so grateful for a hot shower. Then ice on the forearm, with a cup of coffee and banana bread.
Went to Jen and Bill's for dinner. Brian, their boys, and I peeled shrimp for half an hour. Then Brian got to deep frying them. I brought jarred smoked salmon, kelp relish, pickled peppers and onions, and crackers I put out for horsderves. The youngest son had worked up the Berners River sampling coho salmon, a trip of a lifetime I was lucky enough to do twice during my career. The wives and girlfriend showed up and the food was all ready to eat. Lots of leftover shrimp, and I got a bag. Tomorrow's storm starting tonight.